Here is a craft idea for making romantic paper hearts for your Valentine.
MATERIALS FOR 1 TAG-

5 1/2" square of cardboard
Aleene's Designer Tacky Glue
Aleene's Fine-Line Syringe Glue Applicator
White spray paint
Colored chalk:pink,green, yellow
Paintbrushes
Clear acrylic matte spray
12"(1/4" wide) white satin ribbon, cut in half

DIRECTIONS-

Cut a heart out of the cardboard. You can use creative scissors to give you a fancy edge.

Use the syringe to place patterns on the heart. You can make flowers, hearts, anything you want. Let the glue dry until clear. Then spray paint both sides of the heart white.

Brush a dry paintbrush back and forth across a piece of chalk to load the brush with color. Brush color on design. Use the different colors for the different subjects. Spray right side of heart with clear acrylic matte spray to seal in color.

Tie ribbon length in a bow and glue to top front of heart. For hanger, flold remaining ribbon in half to form a loop and glue ends to back of heart at top.


Here is a idea that the younger members of the family can make. Potpourri Ornaments made from household items.
MATERIALS FOR ORNAMENTS-

Clear plastic cups in a variety of sizes
Potpourri
Tulle Net
Aleene's Designer Tacky Glue
Hole Punch
Scraps of lace, ribbon, and other craft and sewing trims
Small silk flowers

DIRECTIONS-

Fill the cups with potpourri. Cut a piece of tulle net a little bigger than the opening on the cup. Spread glue around the outside rim of the cup. Center and place tulle over cup opening. Wrap edges of tulle down sides of cup and press into glue. Let dry. Trim away excess tulle.

Take the trims and lace and glue them around the opening edge of the cup. This will give a finished look to the tulle. Glue ribbon, lace, silk flowers, and other trims to ornaments as desired.

Use a piece of ribbon and make a loop. Glue the two ends of the loop to the bottom of the cup. This will make a hanger. Decorate around the base of the hanger with trims and silk flowers.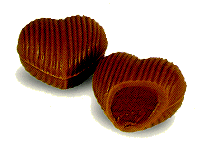 CHOCOLATE-DIPPED FRUIT-

One package of microwave meltable chocolate. This can be found in the grocery store in the baking area.
Assorted fresh fruit such as strawberries, oranges, and tangerines. Also dried fruit such as Apricots works well

DIRECTIONS-

Wash fruit and let it dry well
Melt chocolate in a microwave safe bowl
Take fruit and with fingers dip one piece of fruit into the melted chocolate. Make sure to leave part of the fruit uncovered. Gently scrape one side of fruit across rim of bowl, being careful not to scrap off to much chocolate.
Place on a piece of wax paper

Take a nice plate and place the dipped fruit chocolates on the plate. Add some fresh mint leaves and fresh undipped fruit for garnish.


HOME

Valentine Page