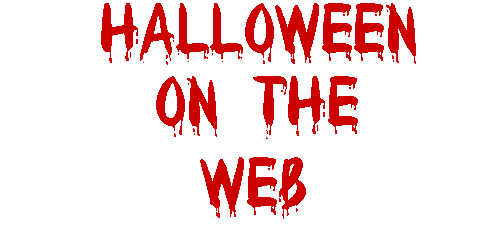 You will be amazed at how many sites out there on the web there are. I will put as many as I can on here for you to check out. To make it easy I am going to score the sites from great- to - don't miss this site unless your DEAD !



I will rate the sites this way....


One tombstone up. Stop painting that coffin, this site is good.




Two tombstones up. Tell your fellow ghouls about this site.





Three tombstones up. Crawl out of the coffin, grab the other ghouls, and run to this site ! Or fly if you are in that form !





- Business Links -

- Family Links -


- General Links -

- Horror Links -


- Kids Links -

- List Links -


- Pumpkin Links -


Business Links




Halloween Productions,Inc.
This site offers from small props to complete, and I do mean complete, Haunted House Units. If you don't have time to build your own, they will build it for you.






Nightmare Factory
The Nightmare Factory offers everything. They also run a large haunted house that you can check out from their store page. Don't miss it.






Monster Makers
Monster Makers offers anything you need to make a mask. If you need directions to start learning they give them to you. They give free information, and also sell prodaucts. So if you want to make a mask you have to go here.





Mr. Scary Productions
Fun site for ideas and supplies.






Terror by Design
"The Professional's source for Haunted House and Halloween -supplies/props/services". I took those words right off their page, but I have dealt with this business and they are the best when it comes to "SERVICE".






Wolf Studios
They offer a nice line of different masks and props, not the things you find everywhere.They also have a great Haunted House site. I have talked to people that have ordered from Wolf Studios and say their customer service is really helpful.





W.R. Bennett Funeral Coaches
This is a fun site, and very helpful, if you are interested in vintage funeral coaches.






Theatre Effects
If you need to add a little flash to your show, this is the place to purchase it. Flash powder, flash paper, magic helpers. This site has it all for the FX part of you.



BACK TO LIST





Family Links




Halloween Alley
This family has taken over the neighborhood Halloween street faire. They do a great job of telling how to do it.





HALLOWEEN
"Halloween on the Web" is what they tell us about themselves. Very interesting graphics and some good family ideas.



BACK TO LIST





General Links




Halloween on Cnet
Cnet's Halloween site on the Web. All sorts of things.




Cyber Cards
Some fun Halloween cyber cards to send to your fellow ghouls.




All Hallows Eve
A interesting site with information on the history of Halloween. Plus some of the different countries ways of celebrating.




Halloween Haunt
A virtual Halloween Haunt. Lots of Fun.






The Ultimate Halloween Page
Are you looking for fonts, clipart, and other great stuff...well this place has it all!





The Knights Halloween Celebration
Just a fun page with all sorts of different things.






Ben & Jerrys Halloween Page
No! This site is not about icecream. Ben & Jerry have taken a fun stab at Halloween. Check it out you might be surprised.





Letter R.I.P.
Now here is a new way of playing the old game of hangman. It is a lot of fun! Check out the rest of the lab while you are there.





Fright Shack
A fun haunting on the web. They have lots of ideas and even a chat room.



BACK TO LIST





Horror Links





Lair of Horror
A nice site for the start of your horror quest.





Offical Anne Rice Homepage
Anne Rice herself had someone create this site for her. It has a lot about her books, her hometown of New Orleans, and the author herself. If you are a Anne Rice fan you have to check this out.






Caverns of Blood
"Horror with Attitude" this is what they have to say about this wonderful virtual Haunt game that they have created. Graphics are great.






Britannia Manor
If you are looking for ideas for your haunt, or want to take a walk through a Million Dollar Haunt then this is the place to be. They have their floor plans to check out, directions on how to make some of their great props, and more pictures than any other site.





Castle Blood
A interesting haunt. Lots of things to check out.





Castle Blood
A interesting haunt. Lots of things to check out.



BACK TO LIST





Kids Links




Haunted House
Here is a great Haunted House for the younger Halloween lovers.




Marsha's Halloween Page
Good site for kids. Fun for the young.





Virtual Haunted House
This site has a great Virtual Haunted House for Kids! Have fun!



BACK TO LIST





List Links





Don Bertino's HomePage
Don is the founder of the Halloween List. He has a great page that deals with a ton of Halloween links, and another of his loves...Dinsey!! The whole family will enjoy this very friendly site.






Halloween Archives
Don has posted, in nice categories, some of the great knowledge off the Halloween List. If you want to build it, move it, or decorate it there will be a idea here how to do it. This is a must see Halloween site for any Halloween Fanatic.






The Brandts
The Brandts have a great time with Halloween and it shows on their homepage. Don't miss it.






Phantasmechanics
A BIG word for a BIG site. You can find all sorts of How To's. This is a very helpful page.






Bob's Halloween Page
3D Graphics like you have never seen. Great page and full of ideas.






Esoteric Toys
Jerry has a great site here with a lot of good ideas. Make sure to check out the graphics!! Really Good Page.





Len Canders HomePage
This site is really well done. Make sure you check it out.






Private Haunts Page
This page will show you haunts all over the United States. It will be updated every year. It has from frontyard haunts to large commercial haunts. Add your haunt this year.



BACK TO LIST





Pumpkin Links




Keith's Pumpkins
Just when you thought you had done a great job carving your pumpkin you see Keith's. This man knows how to carve a pumpkin, and he will give you hints on how to do yours.






Jack-O-Lanterns Plus
Anything you ever wanted to know about how to carve a pumpkin. Lots of tips, patterns, and many ideas. Great for kids.



BACK TO LIST






Halloween Page